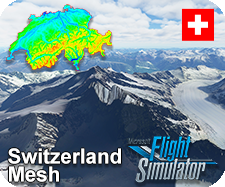 ---
Purchase Method
Switzerland Mesh for MSFS 2020 can be purchased on our Web store on MyCommerce/Digital River. The download link and the Activation key will be provided after purchase.
It's possible to buy using a Credit Card, compatibile with VISA, Master Card, American Express or JCB circuits.
PayPal is also supported.
Buy on the Web
Download
FSDT Universal Installer
Switzerland Mesh for MSFS
High quality mesh for the whole country of Switzerland, derived from original 1m resolution elevation data from the Federal Office of Topography ( Swisstopo ), resampled in 10m and 20m meters for the best performances. The mesh has been carefully made to not cover any airports, to prevent possible compatibility problems with default or 3rd party airports. A set of hundreds of Landmark POIs to mark Peaks, Valleys and Dams is included.

Features:
Original resolution Lidar/Stereocorrelation at 1m
Two installers provided, one at 10m resolution, another one at 20m, choose the best for your hardware.
Special processing to exclude the mesh entirely around the airport perimeters, to prevent any possible conflicts.
Data is blended with elevation data of nearby countries, to prevent spikes or holes at the borders.
Terrain morphing is greatly reduced compared to default scenery.
System Requirements:
Microsoft Flight Simulator ( 2020 ) and WIndows 10.
Product Cost
The product cost is 9.99 USD (plus your local VAT rate, if you live in the EU, or sales Tax if applicable). If you bought the P3D version, and upgrade price is available.
---
Screenshots